Western Line Marking
Western Line Marking provides line marking services for new road construction and road maintenance projects, car parks, OH&S warehouse and factory areas, sports courts and the civil construction industry.
We offer line marking solutions using several types of solvent or water borne paints, cold applied plastic, extruded thermoplastic preformed thermoplastic in various forms such as holding lines, directional arrows, letters, numerals and icons.
We also remove lines using black paint or long life materials, machine grinding and offer water blasting services.
Western Line Marking also supply & install reflective raised pavement markers RRPMs and non-reflective road dots.
Line Marking Services
Preformed Thermoplastic

Road Line Marking

Car Parks

Bicycle Lanes

Civil Construction

OH&S Factory/Warehouse

Sports Courts

Raised Pavement Markers RPM's

Line Removal
Preformed Thermoplastic Specialist
Western Line Marking is a preformed thermoplastic specialist. Like extruded thermoplastic which is used for longtitudinal lines, preformed thermoplastic is a long life roadmarking material available for all tranverse lines, arrows, symbols, letters and numbers.
Preformed thermoplastic is applied to the road surface using heat and provides a quick, clean, consistent thickness material that is less likely to damage the road surface over time unlike some cold applied plastic materials.
Line Marking Removal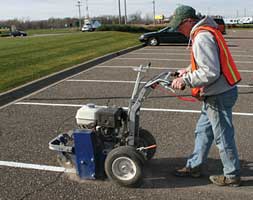 Western Line Marking specialises in the grinding removal of redundant line marking. Removal of paint, degadur or long life thermoplastic from ashphalt or concrete leaving minimal scarring - achieved through precision machines featuring cutting depth increments of 0.25mm.
Line marking removal of carpark bays, line marking upgrades or realignment projects, medium to long term roadworks requiring shifting of existing line markings and road markings. Removal of degraded line marking in preperation of new/replacement line marking.